Streamline how you collect payments

for invoices and event registrations / tickets
Event credit card processing simplified
Effortlessly collect online payments via credit cards, debit cards and ACH for your venue, catering or event planning invoices as well as event registrations. By using one of our integrated merchant account processors - which include PaySimple, Stripe and Square - you can receive payouts into your bank account in as little as 1-2 business days. Be able to accept all major credit cards, including Visa, MasterCard, American Express and Discover.
Easily create and track detailed event invoices
Our event invoice tool lets you build invoices with unlimited line items, tax rates, markups/discounts, categories/packages, service fees, gratuities, delivery fees and more. Build invoice templates (and line item templates) to save you time. Create an invoice from a proposal in a single click. Know when payments are due and past due with dashboards and calendar notifications. And track offline payments for payment methods such as check, cash or external payment processors.
Automate invoice payments to see revenues faster
When you use our integrated merchant payment processors, you can set up automations that accelerate how quickly you get paid and simplify payment installment processes. Set up one or more payment reminder emails for each invoice so clients are notified when every payment is due. Create auto-payments that charge a client's preferred payment method on a given date. And securely save clients' payment methods for easily processing future payments.*
Credit card processing fees starting at 2.39% + $0.29 per transaction
Our integrated merchant account provider PaySimple can work with you to help you get the best rates and pricing - like credit card processing fees as low as 2.39% + $0.29 U.S. per transaction (as well as ACH processing fees at $0.55 U.S. per transaction). And if you choose Stripe or Square, your fees are fixed at 3.2% + $0.30 U.S. per transaction, whether it's an invoice or a registration payment.
No service fee add-ons for processing event registration & ticket payments
If you charge for event registration and ticketing, our online registration and event payment tools make it easy for your registrants to sign up and pay via credit card or check. These tools integrate with our event websites and embeddable event registration forms as well as our event check-in app for an on-site, point-of-sale payment solution. And unlike other major event registraion providers like Eventbrite, we do not charge additional service fees (so the only fees you pay are for payment processing).
*Planning Pod is Level 4 PCI compliant and all of our merchant account payment processors are Level 1 PCI compliant, so your customers' credit card payment information and bank account details are always secure. In addition, our databases are fully encrypted for the safety of you and your clients.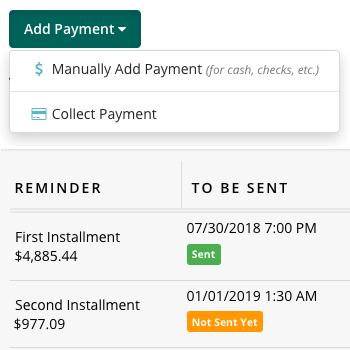 ---
---