Track every email related to events, leads, sales, billings and more
in one comprehensive inbox
Centralize your event-related communications
Gone are the days of having important emails scattered across different email accounts and multiple team members. Our event email app lets you send and receive email from multiple accounts and monitor all email activity for your events and business communications.
Connect one or more existing email addresses
Our event email program integrates with any email account - including Gmail, Outlook/Microsoft Live, iCloud and Yahoo! Mail - so you and your team can send and receive emails from your business or individual accounts. Add as many accounts as you need!
Add timesaving email templates and customizations
If you send out the same messages frequently, you can build unlimited, reusable event email templates for any topic. Plus create a personalized email signature for each email account you connect and customized your own branded HTML email layout.
Easily send and manage email attachments
Our event communications tool lets you attach files and PDFs to emails from any event or lead in your account as well as files from your device. And when you link an email to an event or lead, it automatically adds any sent or received attachments to the Files area for that event/lead.
Includes popular features like archiving
There's no learning curve in using our event email program because it works like any full-featured email client. Archive and delete emails individually or in bulk. Mark emails as priority. Quickly search and sort by email address, subject line or content. And much more.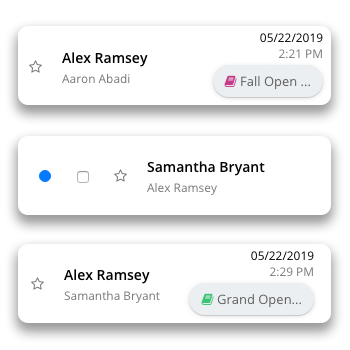 ---
---