Streamline how you manage food and beverage orders

, track vital details and share them with clients and staff
Build a custom library of standard F&B items
Our system makes it easy to maintain a library of every food and beverage item you offer so you can instantly add them to events and packages. Add images and descriptions to each item. COMING SOON - Track unit pricing, recipes and standard portion sizes for items.
Create F&B packages from scratch or from templates
For each event, you can create new food and beverage packages from existing items (or create new items on the fly) or pull in reusable food and beverage package templates that you can then modify based on the customer needs.
Sync F&B packages with event BEOs
For many venues, banquet event orders are the key document that communicates F&B orders to both front-of-house and kitchen staff. Our food and beverage software syncs F&B packages and quantities you have added to events into your BEOs, keeping them current at all times.
Download and share F&B menus online
Our food and beverage software lets you present F&B packages to prospects and clients in a colorful, professional way. Either download colorful PDF documents of your food and beverage menus - complete with imagery - or share a unique URL so customers can view a menu online.
Easily add F&B packages to proposals and invoices
COMING SOON - When you create food and beverage packages for events, you can also add unit pricing and quantities to each package/item. Then, with a single click you can pull these F&B packages into proposals and invoices to simplify your sales and billing processes.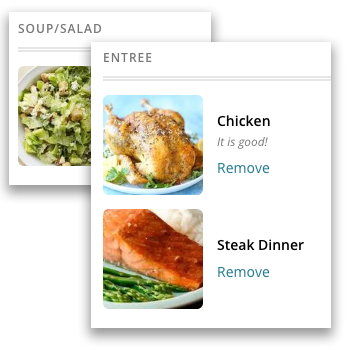 ---
---